Aussie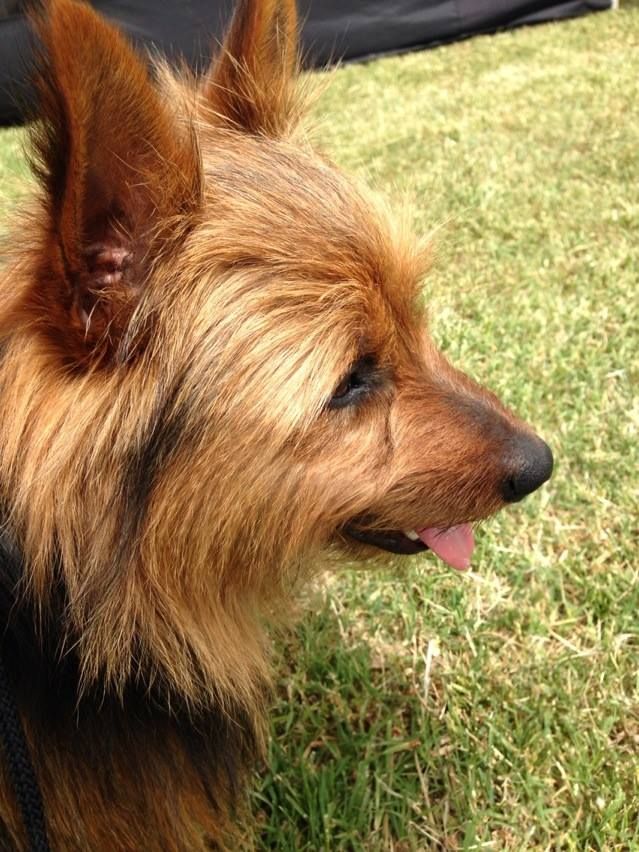 The founder of our Aussie family 'Aussie'
Ch. Lemonlee Little Touch of Class (Aussie)
Aussie Ch. Lemonlee Little Touch of Class (DOB 16.6.2013), was bred by Jean Lemon (Lemonlee Australian Terriers) in the south of the Tasmania. He was our first Australian Terrier and quickly took over the family at 8 weeks of age. He soon let all the dogs in our extended family know that he could run with the biggest, best and fastest of them and enjoy their company from the largest to the smallest dogs. He is very smart, loves playing with our grandchildren and is totally devoted to Dave.
Aussie will be part of our future breeding programme and with his fabulous combination of intelligence, excellent confirmation and perfect temperament, he is ideally suited to the task.
He has a smiling, friendly, expressive face, a good head, he is well proportioned and his coat is beautiful.
He is able to combine his playfulness with tollerence and intelligence and he is very loyal to his family.
After gaining his title, Aussie has had a break from showing but he always enjoyed his show career and was a delight to take into the show ring wining multiple 'Best of Breed' and 'State Bred in Group' classes. He is an Australian Champion.
In January 2018 Aussie returned to the show ring to compete in the Sporting Terrier Show in Hobart. Interestingly he was awarded 'Best of Breed', beating all the Australian Terriers in the show including our own two lovely girls.
I have no hesitation in using Aussie as our stud dog as his qualities are an asset that will be passed on to future generations.

Aussie settling in for an evening by the fire.

Aussie posing with the pansies.

Aussie getting groomed.
Contact Details
Erica Norgrove
York Plains, TAS, Australia
Phone : 0438173478
Email :
[email protected]